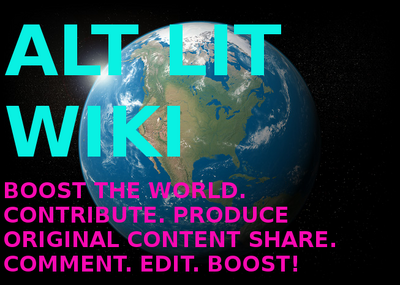 WELCUM 2 ALT LIT WIKI
Edit
A wikid site for alternative literature. Produce Original Content. Share. Boost. If you want to help start this, add a page for yourself if you are an active writer / community member. Also, add pages for active 'publications.' Also, add pages for, like, 'concepts,' and shit?
Publications
Edit
[ADD PLACES THAT 'PUBLISH' ALT LIT HERE]
CLICK HERE FOR WHERE TO SUBMIT YOUR ALT LIT MASTER LIST
Now That's What I Call Alternative Literature
[ADD PPL / WRITERS / REVIEWERS / CONTENT PRODUCERS HERE]
Marie Calloway (based goddess)
Tao Lin 2 (an objectively 'better' version of Tao Lin)
Steve Roggenbuck (aka BooSt god)
High Gravity Ppl / Places (not meant to be 'hierarchy-y'; simply meant to 'note' 'notable,' hi-trafficked ppl /places)

TAO LIN

The crown-prince of online literature.

STEVE ROGGENBUCK

Steve Roggenbuck is the B00st g0d of alt lit. He is the lil B of alt lit

POP SERIAL

Pop Serial is a print and online publication curated by Stephen Tully Dierks which publishes mostly 'tao lin copy-cats'

HTML GIANT

HTML Giant is the 'smart / intellectual' hub for alt lit. It is where alt litsters go to use big words and to 'namedrop' vocab words they learned in college and to avoid 'low quality' quickshit etc.

INTERNET POETRY

Internet Poetry is a tumblr which posts 'internet-based forms' of lit. It is the [reputable IRL poetry publication] of alt lit.

Beach Sloth

Beach sloth posts a lot of reviews of alt lit shit. It is rumored that beach sloth writes each review in under 30sec. Now that's what I call Quick Shit !
▲L† LI✞ Primers and Articles (via 'Alt Lit Gossip ')Edit
Click here for an extensive list of the most known, shared Alt Lit articles and resources. If you aren't familiar with
Alt Lit, these are some 'good' places to start.
Community content is available under
CC-BY-SA
unless otherwise noted.