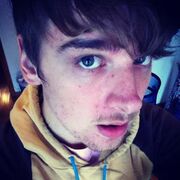 steve roggenbuck aka 'boost god'
Edit
http://www.steveroggenbuck.com/
illuminati
666
LIVE MY LIEF LIVE MY LIEF is my main focus right now, where i post my video- andimage- based poetry and art. on LIEF+ i post community updates and links. i make all my money through the LML store
BOOKS i have a full-length poetry book (CRUNK JUICE), two free e-books (DOWNLOAD HELVETICA FOR FREE.COM and i am like october when i am dead), and a collaborative e-book (I LOVE MUSIC)
EVENTS i do readings in most cities i visit, see my tour dates and event recordings. i've also given presentationsabout poetry and social media at over five universities. please contact me if you'd like to book somthing!
+++ in 2010-11 i regularly wrote essays and book reviews. i also started the blog INTERNET POETRY. i've made a 9-minute video about veganism. i have several old music projects online
CONTACT my email is steveroggenbuck at gmail.com. if you contact me on facebook, please send me a message, not just a friend request (ive reached the friend limit)
i do a live broadcast every sunday, 7-10 pm eastern, and i spend most of the show interacting with the chatroom
im also on twitter, youtube, and instagram (steveroggenbuck). im increasingly busy, but i really apreciate any effort to connect. if i don't respond, please just send again!!
thank you very much
"